Healthcare, especially vaccine development and rollout efforts, has become one of the most widely-followed topics during the pandemic. And due to the pandemic, a large number of elective surgeries have been postponed. As this backlog gets cleared in the coming months, shares of medical device manufactures will likely benefit.
So today we introduce an exchange-traded fund (ETF) that could appeal to readers who want to invest in the health-care industry.
This article extends our previous coverage of other ETFs in the sector which we covered previously , , , and .
The Pandemic Meant Both Challenges and Innovations
According to Deloitte, COVID-19 has meant:
"enormous strain on the global health-care sector's workforce, infrastructure and supply chain, and expos[ed] social inequities in health and care."
Challenges have also led to opportunities and industry-wide developments. For example, the increased adaptation of digital tools in the health-care industry has received significant attention. Millions of people have adopted tele-health services, and the number of online medical consultations has skyrocketed during the pandemic.
Due to programs like "track-and-trace," the amount of health data collected during the pandemic has increased as well. Predictive data tools powered by artificial intelligence to optimize the use of healthcare resources are increasingly in the limelight.
The past year has mostly been about mitigating the devastating health effects of COVID-19. However, as countries begin to look beyond the pandemic, we can expect further innovations in the industry.
The healthcare sector is among the largest employers in the US, and America spends more on healthcare than any other country. Recent metrics highlight:
"Health spending per person in the US was $10,966 in 2019, which was 42% higher than Switzerland, the country with the next highest per-capita health spending. On average, other wealthy countries spend about half as much per person on health than the US."
Therefore, investors' interest in health-care stocks and ETFs will likely continue in the second half of the year, too.
The industry can typically be divided into four main sectors:
Health-care services and facilities;
Medical devices, equipment and hospital supplies manufacturers;
Medical insurance, medical services and managed care; and
Pharmaceuticals and related
Against that backdrop, here's our fund for today.
iShares US Medical Devices ETF
Current Price: $347.10
52-Week Range: $251.06 – $362.98
Dividend Yield: 0.27%
Expense Ratio: 0.42% per year
The iShares US Medical Devices ETF (NYSE:) provides exposure to US companies that manufacture and distribute medical devices, ranging from MRI scanners to X-ray machines, prosthetics and pacemakers. The fund started trading in May 2006.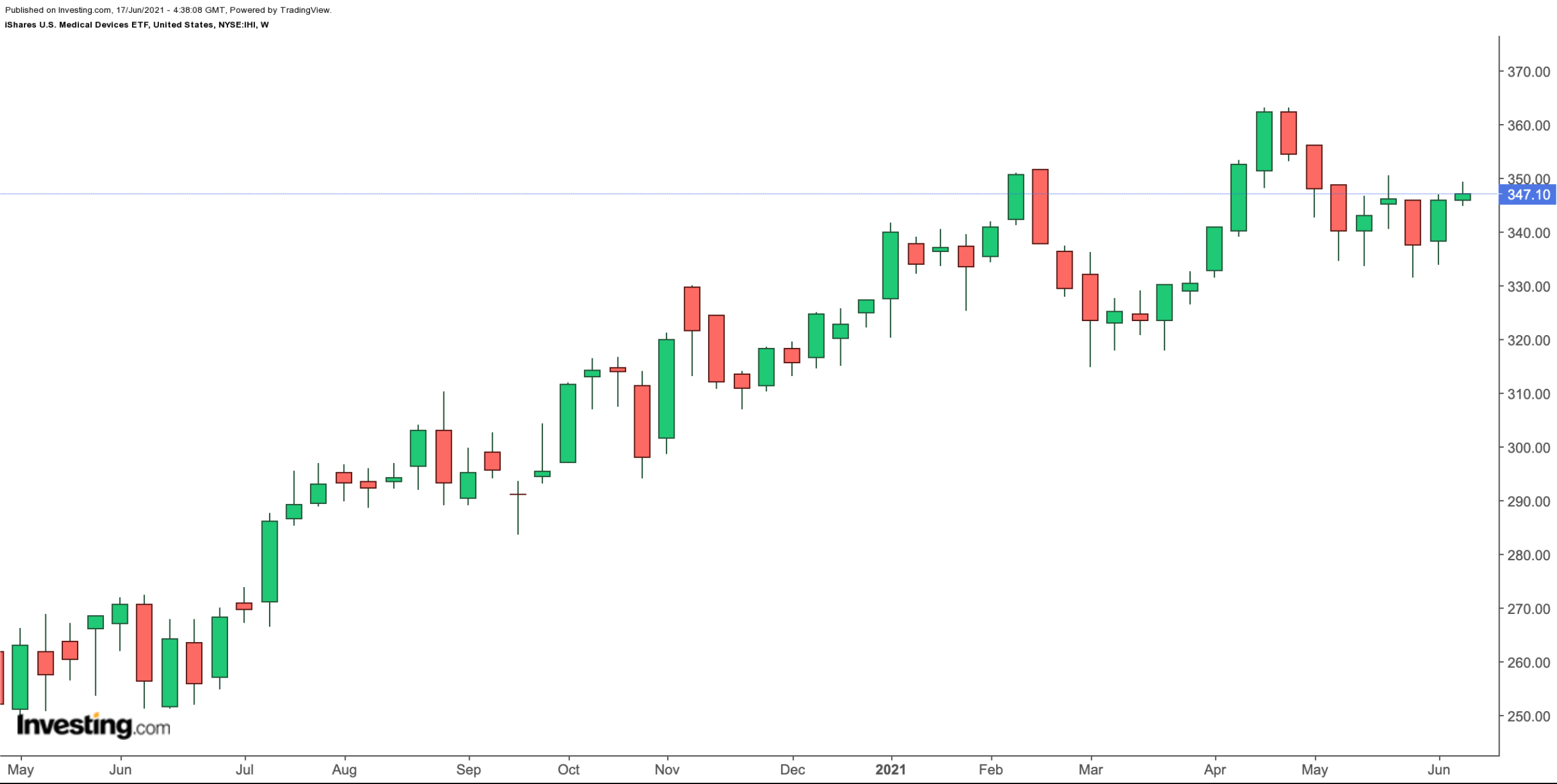 IHI, which has 63 holdings, tracks the Dow Jones US Select Medical Equipment Index, which uses a market cap-driven approach for weighting. In terms of the fund's sector allocation, health-care equipment tops the list, with more than 84%, followed by life sciences tools and services (15.05%) and health-care supplies (0.48%).
The fund's net assets are close to $7.5 billion, with the 10 largest holdings constituting more than 70% of that figure. In other words, it is a top heavy fund whose prospects depend largely on a number of names. Abbott Laboratories (NYSE:), Thermo Fisher Scientific (NYSE:), Medtronic (NYSE:), Danaher (NYSE:) and Intuitive Surgical (NASDAQ:) lead the names in the roster.
So far this year, IHI is up 5.65%, hitting an all-time high in late April. Since then, a number of the names in the fund have come under pressure. Interested investors could consider a further decline toward the $340 level as a better entry point.
On a final note, those investors who are interested in an equal-weighted ETF that goes across a range of market capitalizations in the sector could research the SPDR® S&P Health Care Equipment ETF (NYSE:). Funds under management are over $780 million, and the ETF currently has 85 holdings. Year-to-date, XHE returned around 10%, and saw an all-time high in mid-February.