Vessels from the U.S. Coast Guard and the French Navy reported seizures of more than $55 million of narcotics so far in November as part of the operations of the Combined Task Force 150, part of the largest multinational naval force focusing on maritime security operations. Since 2021, CTF 150 reports seizing more than $1 billion in illegal drugs while patrolling water across the Middle East, but it is now highlighting a new emerging problem of methamphetamine, which it believes is being placed on the world market.
Two seizures this month illustrate the emerging problem. A French frigate working under the Command of CTF 150 stopped a stateless vessel on November 4 while in international waters in the Indian Ocean. The Task Force reports they seized 722 kilos of methamphetamine. The estimated value was about $34 million.
Ten days later, the USCG Emlen Tunnell, one of the Sentinel-class fast response cutters assigned to CTF 150, stopped another stateless vessel in the Gulf of Oman on November 14. The USCG seized 384 kilos of meth along with 2,000 kilos of hashish. They estimated the value of the drugs at about $21 million.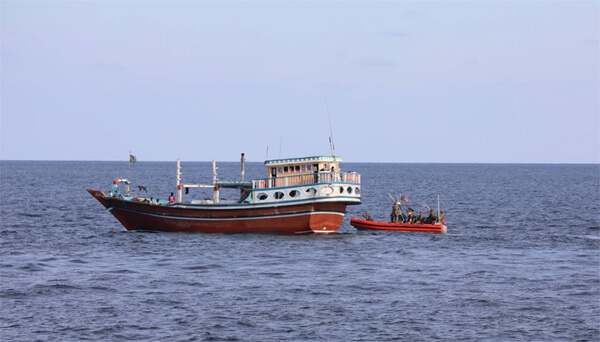 Two seizures in November 2023 totaled $55 million (U.S. Naval Forces Central Command / U.S. 5th Fleet)
"We used to find mostly hashish, (but) more and more we are finding synthetic methamphetamine," French Navy Captain Yannick Bossu who is the current head of CTF 150 told a reporter for Stars and Stripes. 
He said the drugs are coming from countries including Pakistan and Afghanistan with the smugglers crossing the Indian Ocean to Africa. They believe the drugs are destined for points around the world including both the U.S. and Europe. Stars and Stripes writes that the methamphetamine from Africa has been found as far away as France and Hong Kong.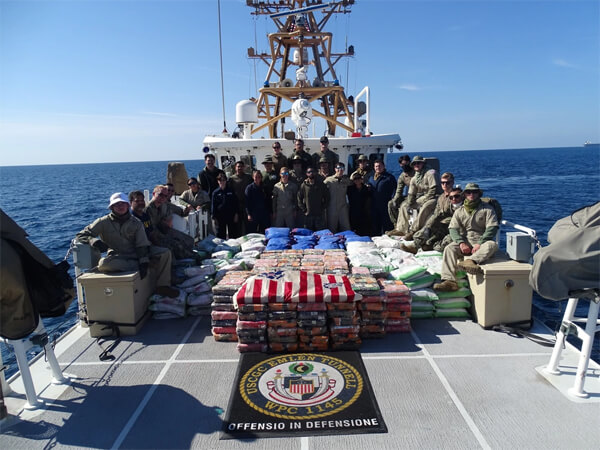 Increasingly they are finding methamphetamine in the seizures (U.S. Naval Forces Central Command / U.S. 5th Fleet)
While most of the smuggling is still overland, the CTF believes the amount traveling by sea is increasing. The most recent seizures happened as part of routine patrols and flag verification stops. International law permits a search of the stateless vessels when they are stopped.
Commanders from CTF 150 are highlighting that last week's capture was the fifth in recent months by the Task Force seizing illegal drugs. During the previous interdictions, they reported seizing more than 4,522 kilograms of methamphetamine, heroin, and hashish from stateless vessels, with a street value of more than $94 million.