Share:

Hal Press of North Rock Digital says that the first Ethereum futures ETF will be approved on October 2. 
The crypto hedge fund founder believes Valkyrie's combined product will be the first ETH futures ETF product to market. 
Ethereum price declined 2.33% over the past week as the altcoin trades sideways below $1,600.
The first Ethereum futures ETF (exchange-traded fund) is likely to be approved on October 2, according to crypto hedge funder Hal Press. The North Rock Digital founder's thesis is based on the recent events in the crypto ecosystem.
The Valkyrie Bitcoin Strategy and Ether Strategy ETFs are awaiting approval from the Securities & Exchange Commission (SEC), with a deadline of October 3, 2023. Press believes this could be the first Ethereum Futures ETF to win the SEC's approval.
The approval of a Bitcoin futures ETF in October 2021 had fueled bullish sentiment among market participants and acted as a catalyst for BTC's price rally to a peak of $66,900. Traders have similar expectations from the approval of an Ethereum futures ETF, therefore, the date of approval is key to identify the trend in ETH price.
Also read: BASE chain likely to issue tokens in the future, Coinbase CLO Paul Grewal waits for regulatory clarity
Ethereum futures ETF approval likely to come in at the earliest
Hal Press expects the news of an Ethereum futures ETF approval as early as October 2, ahead of the deadline of Valkyrie's combined ETF product application. Press explains that it is possible that some news comes out earlier, but the latest possible date to watch for the approval of this investment product is in October 2's post-market. 
The following table shows deadlines for approval of different ETF applications: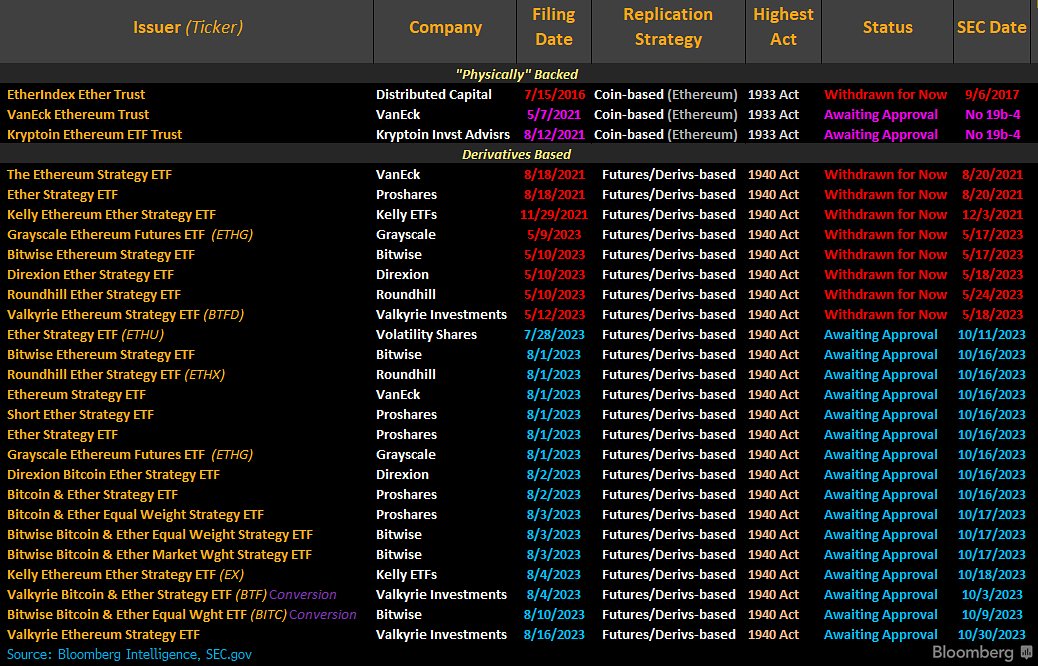 ETF application status and SEC date
Crypto investment giant Grayscale is the latest to file for an Ethereum futures ETF with the SEC. Earlier this week on September 19, Grayscale proposed listing and trading shares of the Grayscale Ethereum Futures Trust ETF under the New York Stock Exchange Arca Rule 8.200-E.
An approval of the Ethereum futures ETF could open the floodgates to similar investment products and usher in a bullish sentiment among ETH holders and traders.
At the time of writing, Ethereum price is ranging below $1,600 at $1,589 on Binance. Over the past week, ETH yielded a 2.33% loss for Ethereum holders.
Ethereum FAQs
Ethereum is a decentralized open-source blockchain with smart contracts functionality. Serving as the basal network for the Ether (ETH) cryptocurrency, it is the second largest crypto and largest altcoin by market capitalization. The Ethereum network is tailored for scalability, programmability, security, and decentralization, attributes that make it popular among developers.
Ethereum uses decentralized blockchain technology, where developers can build and deploy applications that are independent of the central authority. To make this easier, the network has a programming language in place, which helps users create self-executing smart contracts. A smart contract is basically a code that can be verified and allows inter-user transactions.
Staking is a process where investors grow their portfolios by locking their assets for a specified duration instead of selling them. It is used by most blockchains, especially the ones that employ Proof-of-Stake (PoS) mechanism, with users earning rewards as an incentive for committing their tokens. For most long-term cryptocurrency holders, staking is a strategy to make passive income from your assets, putting them to work in exchange for reward generation.
Ethereum transitioned from a Proof-of-Work (PoW) to a Proof-of-Stake (PoS) mechanism in an event christened "The Merge." The transformation came as the network wanted to achieve more security, cut down on energy consumption by 99.95%, and execute new scaling solutions with a possible threshold of 100,000 transactions per second. With PoS, there are less entry barriers for miners considering the reduced energy demands.
---
Like this article? Help us with some feedback by answering this survey:
---
---