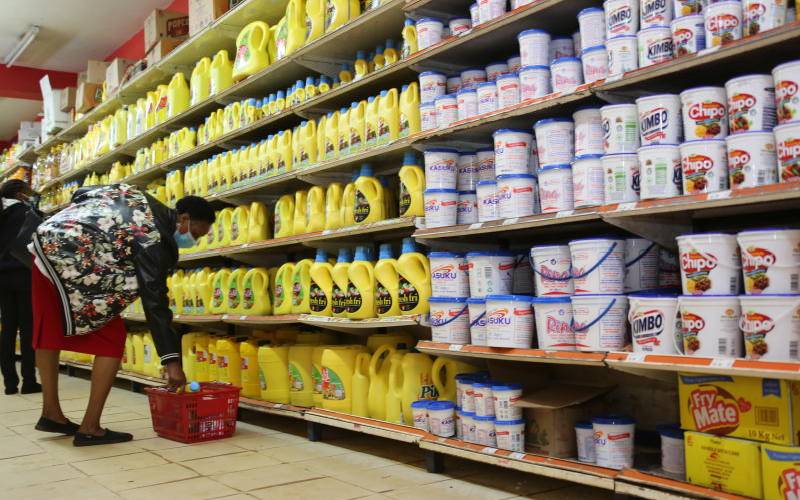 Kenyans might have been spared when the proposed 16 per cent value-added tax (VAT) on bread was struck out in the Finance Bill, 2021, but this has offered little relief on the high cost of living.
Even before the Bill was signed into law, which imposed more taxes on liquid petroleum gas (LPG) and airtime, Kenyans were still finding it hard to afford basic commodities whose prices have shot up by almost 50 per cent in less than a year.
Cooking oil, maize and baking flour, bar soap, sugar and rice are just some of the items that are costing much more compared to 2020. Of these, cooking oil takes the lead with a price increase of 48 per cent.
The prices have been gradually increasing over the last few months, rather than a spike, which has significantly eroded consumers' purchasing power.
"Sh1,000 is basically an adult Sh1," wrote one frustrated netizen on July 10, 2021.
"(You can't say you will cook with) coil because buying tokens is also very expensive. Without forgetting the prices of cooking oil," wrote netizen @iamjoseph on July 3, 2021.
"Today, cooking in Kenya will cost you an arm and a leg."
And in what appears to have been a premonition, on March 30, 2020 @Mikebklexy wrote: "It is advisable to buy rice and cooking oil and store them. Prices are rising very fast. Kenya is not sufficient in this (sic) items."
A spot check by Sunday Standard in Quickmart, Tuskys and Eastmatt supermarkets, and several wholesale shops shows the price of basic commodities has increased by between 3.3 per cent and 48 per cent.
A 50kg bag of rice that cost Sh3,100 in June last year is today selling at Sh3,300 while a carton of bar soap, which was Sh2,500 is up by Sh350.
The price of sugar was Sh4,300 for a 50kg bag but is now Sh4,600, while a bale of 12 packets of 2kg maize flour that was Sh1,100 is now sh1,250. For baking flour, the price of the same quanitity is up 17 per cent to 1,580.
A 10-litre jar of cooking oil has risen the most from Sh2,600 to Sh3,850.
These wholesale prices have trickled down to retail outlets. Three litres of Rina cooking oil, for example, was selling at Sh536 in August 2020 but is now Sh750.
A five-litre jar from the same brand that cost Sh870 in February 2020 is now Sh1,140.
The price of three litres of Fresh Fri cooking oil has increased to Sh722 from Sh570 while the cost of five litres went up by Sh213 to Sh1,141 during the same period.
A 1kg packet of Home Digestive Biscuit that was priced at Sh360 in February 2020 is now Sh435.
However, prices of a few items have remained more or less the same. Quickmart's own baked bread, 400 grammes, has maintained its price at Sh40 since last year.
The price of a 2kg packet of Soko Maize Meal brand has actually dropped to Sh104, with some outlets selling on offer at Sh97. In May 2020 the price was between Sh120 and Sh125.
Jogoo brand of maize meal has maintained its price at between Sh109 and Sh110.
According to the Kenya National Bureau of Statistics (KNBS), inflation was 6.32 per cent in June this year compared to 4.59 in the same month in 2020.
The Consumer Price Index was 108.27 last year, which has since gone up to 115.11.
"This was mainly driven by rise in prices for commodities under: food and non-alcoholic beverages (8.46 per cent); housing, water, electricity, gas and other fuels (4.25 per cent); and transport (14.71 per cent) between June 2020 and June 2021," read the KNBS update.
The 6.32 per cent inflation rate means that if you had Sh100 in June this year, the actual value of the money when you purchase any product or service in the market was Sh93.68.
Hence, to purchase the same items or services that used to cost Sh100, you would have added Sh6.32, which makes the total cost Sh106.32.
This means if your monthly shopping costs you Sh5,000, you will have to spend Sh316 more this year compared to Sh229 in 2020 when you factor in inflation.
If you do not want to spend more, then you have to buy less items.
Hinders competitiveness
Kenya Association of Manufacturers (KAM) says the increase in commodity prices is attributed to a rise in the cost of doing business.
It says this hinders the competitiveness and productivity of the local manufacturing sector.
"This has been exacerbated by the Covid-19 pandemic, which has led to supply chain disruptions and impacted various sectors, and manufacturing has not been spared," said KAM Chief Executive Phyllis Wakiaga in a statement.
She identified high cost of raw materials and intermediate products, overbearing and constantly shifting regulation, cost and consistency of energy, transport and logistics costs, and a voracious and sometimes capricious tax regime as some of the obstacles impeding competitiveness.
Ms Wakiaga especially noted that the food sector is one of most affected by the rising cost of doing business, citing the Agriculture ministry's implementing of the Crop (Nuts and Oil Crops) Regulations, 2020.
"The regulations seek to control the thirteen scheduled crops which include sunflower, sesame, coconut, cashew nut, groundnut, safflower, linseed jojoba, oil seed, flax seed and bambara nuts, among others," she said.
"They have introduced various new fees and levies, which are likely to have driven up the price of food by three per cent in past weeks."
She added that the prices of edible oils have gone up in recent months due to an increase in the cost of crude palm oil in the global market.
"This has reduced local manufacturers' competitiveness, thus eating into their local and global markets," Wakiaga said.
"It has also increased the cost of living for mwananchi, especially because edible oils are a household necessity."
The United Nations Food and Agriculture Organisation (FAO) on June 3, 2021 also noted the high prices of commodities such as vegetable oils, sugar and cereals.
It noted that its Cereal Price Index increased by 6.0 per cent from April, caused by international maize prices that averaged 89.9 per cent above their levels a year earlier.
"However, maize prices started to retreat at the end of May, mostly on improved production prospects in the United States of America," said FAO.
"International wheat prices also showed a late-month decline but averaged 6.8 per cent higher in May than in April, while international rice quotations held steady."