4WD parts maker ARB Corp doubled its profit and hiked its dividend on the local touring holiday boom, but it will still be claiming more Jobkeeper than last year.
The auto accessory firm met estimates with a 97 per cent increase in profit to $112 million and a 33.9 per cent revenue boost to $623 million, with a trend towards local travel increasing worldwide demand for its range of auto products.
A final dividend of 39 cents per share will be paid on October 22 – up from 21 cents a year ago – bringing the final payout to 68 cents per share.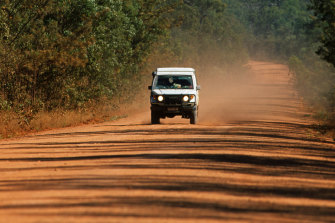 But even though it dimproved its financial performance, ARB Corp still claimed $9.82 million in government wage subsidies this financial year, up from the $9.48 million claimed in FY20.
The $9.8 million figure was already flagged in the company's first-half results in Feburary.
The company was also loath to offer concrete earnings guidance, given the potential for further supply chain and economic disruption due to the pandemic.
The $4 billion company was trading 0.9 per cent higher at $48.88 near 11.30am AEST and earlier got to a peak of $49.11, just shy of the $49.16 record high set on Friday.
Clime Investment Management head of investments Adrian Ezquerro said Australian new vehicle sales data continues to suggest that ARB will enjoy a sustained tailwind in industry conditions, in that more and more consumers are opting for SUVs.
"ARB is an accessory brand of choice for 4×4 enthusiasts, and thus remains well-positioned to deliver material growth in the years to come," Mr Ezquerro said.
ARB said the ongoing disruption caused by COVID-19 across all of its markets had presented both opportunities and operational challenges.
"The trend towards local travel has increased worldwide demand for the company's products, however logistical and supply chain constraints coupled with labour shortages have increased operational costs and disrupted timely fulfilment of sales," ARB told investors.
"It is not feasible to quantify the impact of these and other COVID-19 related factors."
The Company maintains a positive short-term outlook based on strong global sales since the end of the financial year, a strong customer order book, increasing new car sales in Australia and customer opportunities already announced to the market.
However, the current economic conditions remain very uncertain.
"While demand is strong and global economies have performed better than expected, ongoing and unpredictable restrictions designed to curb the spread of COVID-19 continue to disrupt supply chains, shipping networks, retail operations and customer fulfilment," ARB said.
"It is not possible to provide financial or operational guidance in the short term with any level of confidence."
During the year ARB developed a range of factory-approved accessories for the new Ford Bronco 4WD, while it also announced its acquisition of the leading manufacturer and distributor of utility accessories in the United Kingdom, Auto Styling Truckman Group.