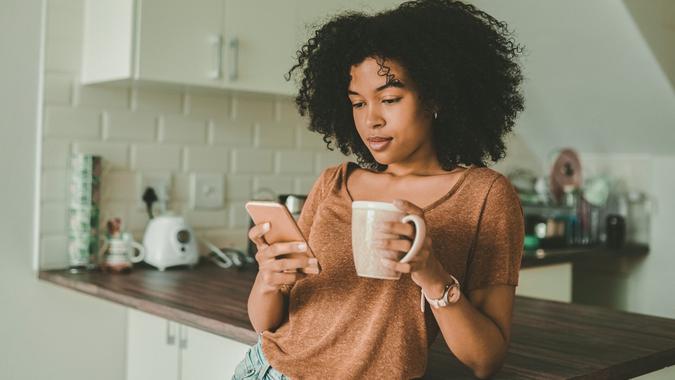 Moyo Studio / Getty Images
When it comes to getting your personal finances under control, there is much to be said for nailing down the details with an intuitive app. Recent fintech options make it possible to get live updates of your bank balances, debts and long-term savings all at once. Having this information is key to making the necessary financial decisions to budget effectively and meet your savings goals.
The two most popular personal finance apps are Personal Capital and Mint? But which app is best for you? Both are good, but depending on your day-to-day needs and long-term financial goals, one may suit you better than the other.
Personal Capital
For people who get tired of logging into six different banks to have a look at their retirement, investments, checking and savings accounts, Personal Capital is an ideal option. The browser and app-based dashboard created by Personal Capital lays out the entirety of your linked financial picture, permitting a bird's eye view for strategic planning.
Mint
Mint is the original budgeting app. You can link Mint to your bank accounts to get an instant picture of your financial situation whenever you need it. Thanks to its built-in budgeting features, many use Mint to help develop a budgeting strategy. Mint is owned by personal finance giant Intuit.
Personal Capital Vs Mint: Which Does What?
| Feature | Personal Capital | Mint |
| --- | --- | --- |
| Budgeting | Yes | Yes |
| Financial Advisement | Yes | No |
| Goal Setting | Yes | Yes |
| Retirement Planning | Yes | No |
| Investment Fee Analysis | Yes | Yes |
Developing a Budget
Developing a budget is a key element of shoring up your financial health. Both Personal Capital and Mint have budgeting options.
Built into the Personal Capital app is an automatic budget system that tracks your spending. You set goals for the month and can compare your actual spending to those goals in real-time right in the app.
Not only can you plan your budget in Mint, but you've also got the support of AI as well. The Mint app automatically drops your purchases into categories so you can keep track of what you've spent and how your budget is faring with day-to-day spending.
You can also automate keeping an eye on your spending when you take advantage of the Mintsights included in the Mint app, which compares prices across months and let you know if your subscriptions spending has increased.
Debt Management
Personal Capital and Mint also aim to help you watch your debt. This includes large debt like your mortgage or small debt like your upcoming phone bill.
Personal Capital's Net Worth Calculator
Personal Capital's net worth calculator can be used to keep track of debt related to linked accounts. For things like loans and mortgages, Personal Capital will keep track of your assets compared to liabilities so you have a realistic view of your cash flow.
Mint Keeps an Eye on Assets and Debts
Mint has a space to watch your loans and property ownership. When developing your overall budget and financial plan, having information about your home loan right in front of you will help you build a more accurate plan.
In Mint, add your bills so that you can see not only the money you have but the money you owe. This gives the most accurate picture of what you have available to spend. It also helps you pay on time and avoid overdraft fees.
Have a Plan for the Future
Having a long-term financial plan is one of the best ways to commit to your budget. Both Personal Capital and Mint have financial planning capabilities, but with slightly different goals.
Retirement Planning with Personal Capital
Personal Capital makes space for serious retirement planning. Not only do they have retirement planning tools, but they also offer free 401(k) fund advice so that you can make strategic choices about your retirement funds.
View Retirement Portfolios on Mint
You can add your 401(k) or IRA portfolios to your Mint account for viewing and fee analysis. Mint does not, however, offer more options for retirement planning. Instead, it connects users to exterior investment options.
Invest in Your Future
Personal Capital wants to make it possible for you to monitor all of your investments in one dashboard. Its personalized portfolio options combined with tools to find hidden fees in your investment accounts give you an overall view of your investments and savings opportunities.
If you want to get even deeper into your financial health, you can opt into Personal Capital's paid financial planning services. Personal Capital serves the advanced needs of wealthy customers via financial planning and other wealth management options. Users can choose Socially Responsible Investment options with Personal Capital as well.
Mint allows you to view your investment portfolios in-app. You can also get connected with brokerage or micro-investing accounts through other institutions via Mint.
Rethink Budgeting

Just like counting calories becomes unsustainable for long-term weight management, so too does hyper-budgeting. Financial experts want people to rethink budgeting from counting pennies to moving Benjamins. Instead of obsessing over where each dollar goes, structure your budget to pay out your most important categories first — retirement, emergency fund, rent — and then count the leftovers as just that: available funds.
Personal Capital and Mint Aim To Fix Your Finances
If you are looking for a dashboard to connect all of your accounts and give you a bird's eye view of your net worth at any given moment, Personal Capital and Mint can both help you keep track of where your money is and where it is going. Choosing between the apps just depends on what information you personally want at hand.
Personal Capital: Wealth Management
But Personal Capital is more focused on established finances and wealth growth. With tools for tracking net worth, cash management options for up to $1.5 million, and multiple long-term investment strategy options, Personal Capital is a one-stop-shop for wealth management.
Mint: Great for Beginners
Mint, on the other hand, is built to appeal to consumers who are just starting out with financial management. Many clients use Mint to get debt under control or first learn how to start budgeting to handle things like spending goals and bill forecasting.
Mint has some of the advanced capabilities that Personal Capital has, such as monitoring investments, but it's very much oriented to the here-and-now, while Personal Capital is built with your long-term financial goals in mind.
Source link