LAKELAND, Fla. — Tampa Bay realtors, home buyers and builders have never seen anything like it.
Realtors and builders can't keep up with demand. And buyers often can't move quick enough to snatch up a property before it's sold.
With an estimated 845 people moving to the state per day until 2025, the real estate boom is alive and kicking in Florida, particularly in the Bay area and Central Florida.
On the latest episode of our To The Point Already podcast, Spectrum Bay News 9's Rick Elmhorst and Roy DeJesus talk with a realtor, a builder and two people who just moved to the state.
Florida real estate is usually a hot commodity but the market is on fire right now, said Realtor Chris McLoughlin.
"Whatever it takes right now is what we're doing with this market," he said. "Because there is such strong buyer demand and such limited inventory."
That has led to tale after tale of buyers employing desperate strategies to make sure their bids stand out amongst others vying for the same properties, even as prices of homes continues to rise.
Others are coming to Florida to get a fresh start.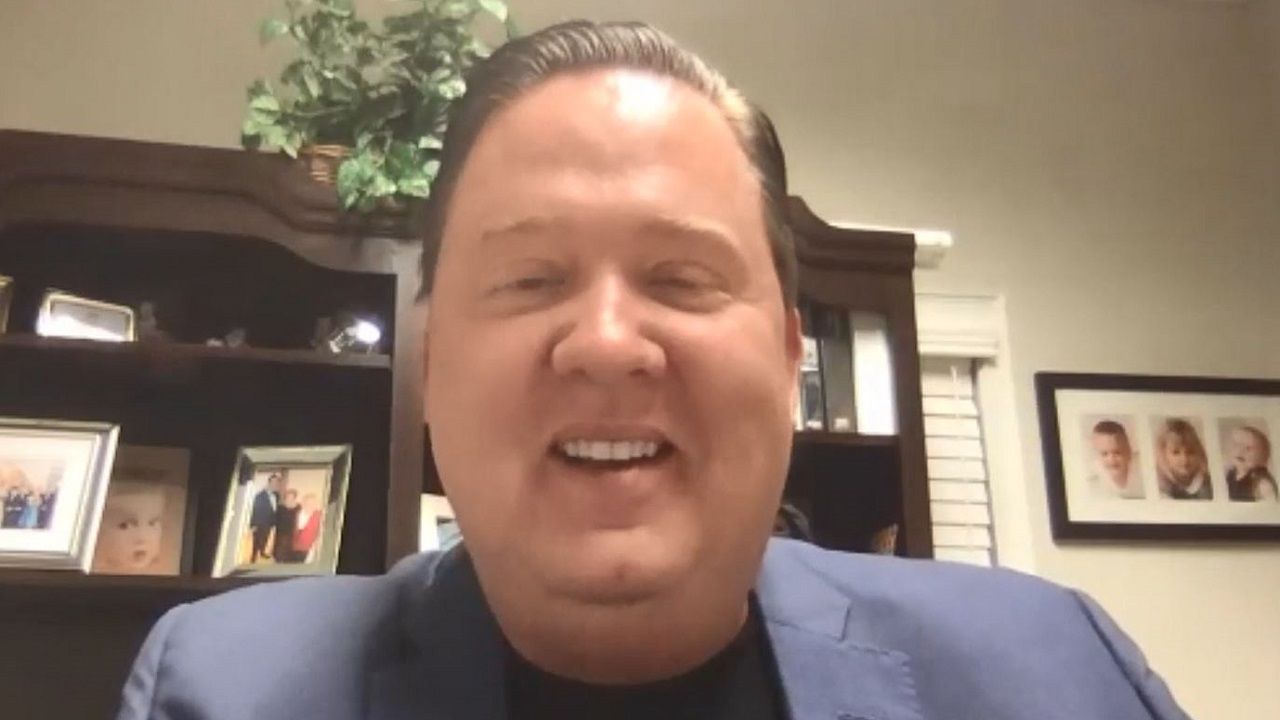 Lakeland-based realtor Chris McLoughlin said he once had a potential buyer offer a seller a pet python to try and seal a deal. McLoughlin said the seller politely declined. (Spectrum News image) 
Jacqui Budrow, who recently moved to Florida from New Jersey, said Covid ultimately led to their moving.
"New Jersey has been very constraining," Budrow said. "Not just in Covid, but taxes are insane there and you don't really get much value for that increase in taxes. So yeah, you feel more at home (in Florida) and more included in the community as well."
Not that there is always housing inventory for them to choose from.
Mike Hickman of Hickman Homes said there is a perfect storm of demand right now in the housing market.
"It's actually a challenging time," Hickman said. "There's a shortage of home sites, escalating cost of materials and a shortage of manpower."
That situation is partly from the impacts of Covid-19 but also hangover from the recession a decade ago.
Still, the lure of tax incentives, more home-based work and much more housing bang for the buck has kept the local real estate market hot.
"I think it's going to be a long time," Hickman said of a popular housing market. "Florida is the Sunshine State. In the interior of the state, prices are reasonable even still compared to the rest of the nation. I imagine it's going to take a couple of years because the inventory just isn't coming."
ABOUT THE SHOW
Spectrum Bay News 9 Anchor Rick Elmhorst sits down with the people that represent you, the people fighting for change and the people with fascinating stories to ask the hard questions.
To The Point Already will cover people, politics and issues from a Tampa Bay perspective every Wednesday.